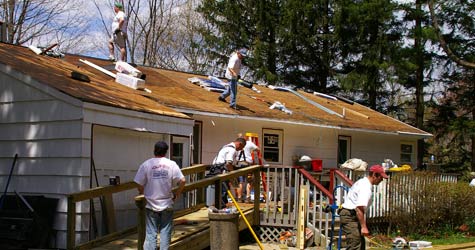 The need for free home repairs for deserving homeowners has continued unabated since AmeriCares first began this domestic assistance program more than 25 years ago. If anything, based on our experience, the need is even greater today. Here's a sobering look at statistics provided mainly by the U. S. Census Bureau that support our findings.
Senior Citizens
Housing needs are especially critical to low-income senior citizens. They represent 50 percent of those served by the HomeFront program in 2013. From 1980 into the next decade, according to U. S. Census Bureau figures, the number of senior citizens age 65 and older living in Connecticut grew 4 times faster than the state's population-at-large.
Contributing to this growth are advances in medicine that have been made during the last several decades, extending life expectancy. The growth during the same time span for those 85 and older was a staggering 32 percent, starting with explosive growth as early as a decade prior.
In 1990, Connecticut's largest municipalities—Bridgeport, Hartford, New Haven, Stamford and Waterbury—were home to the largest numbers of senior citizens.
According to 1998 Census data estimates, 12 percent of all persons age 65 and over live in poverty.
Best estimates indicate that Bridgeport, Hartford, New Britain, New Haven and Waterbury contain the largest number of seniors living below poverty. Four of these communities represent target areas for HomeFront.
Aging in Place
Aging in place provides senior citizens with the stability and comfort that is so important when everything else around them is changing at a speed faster than lightning. According to AARP, the vast majority of senior citizens—83 percent—prefer to live out their lives in their homes.
Safety becomes an issue when they have to choose between making essential home repairs and buying medicine, putting food on the table or paying utility bills.
HomeFront volunteers perform essential repairs, providing seniors with the stability of being able to remain in their homes safely.
Persons with Disabilities
This group of individuals is in the midst of an increasingly acute affordable housing crisis. There is not one Connecticut city or town where a person receiving federal SSI and State Supplemental Program (AABD) benefits has sufficient income from the program to pay 30 percent in monthly income for rent, let alone to maintain a house.
While the state's medium income is over $41,000, this category of individuals receives an annual income slightly higher than $9,000. That's less than 25% of the average per capita state income!
In 2008, 64 percent of those helped through the AmeriCares HomeFront program were persons in this category.
Single Parents
The changing dynamics of household composition in Connecticut will continue to play a significant role in shaping housing needs. Currently, Connecticut is experiencing a burst of single parent homes. From the '80s until now, the increase has been well in excess of 30 percent. Of these households, 78 percent are female-headed. This group represents 23 percent of those helped by HomeFront in 2007.
The state's urban centers have higher rates of single parent homes and female-headed households than the state's rural areas. Bridgeport, Hartford, New Haven, Stamford and Waterbury contain 32 percent of the state's single parent homes. All 5 cities in Connecticut represent target areas for the HomeFront program.
In Hartford, the number of single parent families exceeded the number of married couple families for the first time in 1990, representing 55 percent of the city's total population.
In New Haven, 85 percent of single parent homes were female-headed, of which 41 percent had incomes below the poverty level.
Low-Income Residents
In a state with 1,238,000 households, close to one-quarter of a million people are earning $24,000 or less annually:
38,000 in Fairfield County
78,700 in Hartford County
81,000 in New Haven County
The national poverty threshold for a family of four, according to the U.S. Census Bureau, is $19,350. Yet, Connecticut ranks 5th—New York, 7th—in terms of highest cost of living in the United States.
The New Face of Homelessness
Families with children, often single parent families, represent the fastest growing segment of the state's homeless. Others populating their ranks in recent years include groups that traditionally were not part of this category: single females, senior citizens, and people with physical and mental challenges.