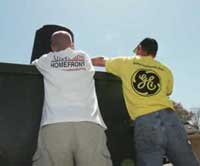 HomeFront Day provides corporations and major businesses with a day of team building. It's a chance for colleagues from different departments and locations to work side-by-side, have some fun and develop an appreciation for each other's talents while working toward a common goal of making a difference in someone's life.
Annually each May, HomeFront involves some 5,000 volunteers in Connecticut and New York and has served 2,500 homeowners over two decades.
To learn more about becoming associated with this well established nonprofit while making a difference locally, please contact the HomeFront office at 800-887-4673. We'll be happy to walk you through the process. Browse our list below of participating corporate teams and you will find that you would be in some very good company.
2016 Corporate Teams
Community Builder
Charter Communications, Stamford
FactSet Research Systems, Norwalk
Hometown Hero
Deloitte, Stamford
GE Capital–GECAS, Stamford
Hologic, Danbury
Perkin Elmer Precisely, Shelton
Barn Raiser
Synapse Group, Inc., Stamford
Foundation Source, Fairfield