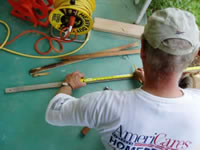 If you're a professional volunteer who'd like to learn more about HomeFront or volunteering, please contact us.
Professional volunteers are needed in the field at various times throughout the year. In the communities where we serve, we require specialized talent such as individuals with knowledge and experience in home remodeling to help with home evaluations between September and February. During that same timeframe, we need volunteers with good people skills to help conduct home assessments.
From February through May, the HomeFront program has a need for the following types of professionals:
Builders
Carpenters
Electricians
General Contractors
Masons
Painters
Plumbers
Remodeling Contractors
Roofers
All can help us make HomeFront a huge success! Professionals can participate either as skilled reinforcement to a volunteer team or by leading a team of volunteers as a House Captain.

This is the team leader in charge of prioritizing HomeFront Day tasks, ordering materials in the weeks leading up to HomeFront Day, and overseeing the physical labor and safety of the volunteers at their project site. This person may, but need not, be a skilled contractor, as long as the individual has some knowledge of home repairs.

See a list of additional volunteer opportunities.

For more information about these and other volunteer opportunities, email fwatton@homefrontprogram.org or call us toll-free at (800) 887-HOPE (4673) or locally in Stamford (203) 658-9500. Ask to speak with our Program Director Fletcher Watton.