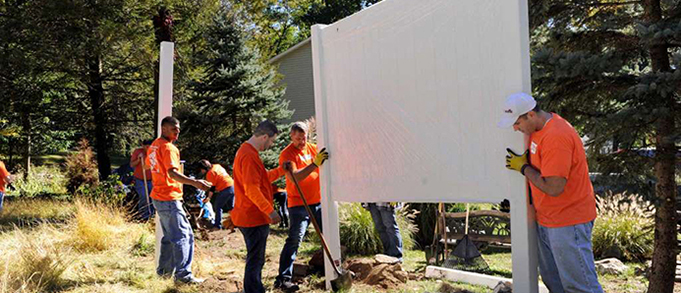 September 30 — A New Fairfield veteran and his family are about to experience a neighborly salute from dozens of Team Depot volunteers on Thurs., Oct. 6th, when their home will be dramatically transformed for the better thanks to The Home Depot Foundation. Team Depot is The Home Depot's associate-led volunteer force that works to improve the homes and lives of veterans. A district-wide volunteer force encompassing multiple local Home Depots has committed to replacing this family's leaky roof, installing new vinyl fencing, a new sink, kitchen faucet and an electrical hookup for their generator in addition to providing new, functional countertops, changing out six casement windows, addressing a dilapidated exterior door, building steps and splitting wood that they use to heat their home. This local volunteer project is part of the company's annual Celebration of Service campaign, a nationwide effort led by Team Depot to give back to veterans between September 1 and Veterans Day.
This partnership with The Home Depot Foundation (THDF) takes HomeFront's low-income veteran housing response to a whole new level. The Home Depot Foundation funds projects that improve the homes and lives of U.S. military veterans and their families. More than 200,000 veterans reside in CT alone. This New Fairfield project will be the eighth of 10 home revitalization efforts funded by THDF for veterans.
According to HomeFront Board Chair, Kenneth Wiegand, "Each year, HomeFront receives requests from 80 veteran families in need. We commend The Home Depot Foundation for a commitment that builds mightily on our record of giving back to those who served our country."
The collective compassion of hands on volunteers, product contributors, foundations and other donors brings HomeFront to the mark of 2,930 homes revitalized in program history, delivering $50 million of service where it is needed most. HomeFront is a community-based program dedicated to keeping low-income homeowners in their homes with an improved quality of life through substantial repairs completed at no cost to them. More information on HomeFront can be found online at: www.homefrontprogram.org.
#
Media Contact:
Sean O'Brien, HomeFront
Office: (203) 658-9664
Mobile: (203) 803-9772
sobrien@homefrontprogram.org