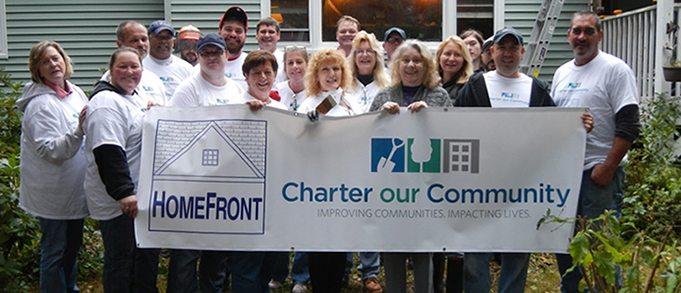 For release: September 19, 2016
In partnership with HomeFront, Charter's national philanthropic initiative Charter our Community comes to Monroe, Connecticut on October 1
Trumbull, CT — More than 20 Charter Communications (NASDAQ: CHTR) volunteers will be in Trumbull, Saturday, October 1st to support the company's national philanthropic initiative, Charter our Community, a program that seeks to improve 25,000 homes in the Charter footprint by 2020.
Through Charter our Community, Charter is partnering with local organization HomeFront — a community-based, volunteer-driven home repair program that provides free repairs to low-income homeowners, thus enabling them to remain in their homes with an improved quality of life. HomeFront currently is serving Fairfield, Litchfield, Hartford and New Haven Counties in Connecticut; and Westchester County, New York.
For this event, Charter and HomeFront will rebuild the home of a family in Monroe.
By providing critical home repairs, Charter Communications and HomeFront will make life-changing repairs for this deserving family. The company is providing a financial contribution and more than 20 employee volunteers to work alongside other HomeFront volunteers to make essential repairs on Saturday, October 1st. Weeks of planning will deliver dramatic plumbing improvements, ceiling repairs, porch upgrades and extensive landscaping.
"HomeFront is honored to partner with Charter our Community in making critical home repairs to our residents to keep them safe in their homes and neighborhoods. This is the first home in Monroe that we have been able to address n five years thanks to Charter," said Sean O'Brien, Executive Director, HomeFront Inc.
"At Charter, we know the importance of a safe and healthy home. The Charter our Community program was created to improve the livelihoods of the residents and offer opportunities for our employees to help strengthen the communities in which we live and work," said Greg Garabedian, Area Vice President, New England at Charter. "This is our first Charter our Community initiative in Monroe, and our employees are excited to join the talented HomeFront team of skilled contractors and local volunteers to make a long-lasting impact in our community."
Charter's program has been implemented nationally, across the company's 41-state service area. The program is anchored by an online hub that features inspirational stories of impact, homeowner resources, education and activities that will help people maintain safe and healthy homes. Since launching in late 2014, the program has helped improve more than 1,100 homes.
To learn more about Charter our Community, please visit: CharterOurCommunity.com.
###
About Charter Communications
Charter (NASDAQ: CHTR) is a leading broadband communications company and the fourth-largest cable operator in the United States. Charter provides a full range of advanced broadband services, including Spectrum TV™ video entertainment programming, Spectrum Internet™ access, and Spectrum Voice™. Spectrum Business™ similarly provides scalable, tailored, and cost-effective broadband communications solutions to business organizations, such as business-to-business Internet access, data networking, business telephone, video and music entertainment services, and wireless backhaul. Charter's advertising sales and production services are sold under the Spectrum Reach™ brand. More information about Charter can be found at charter.com.
About HomeFront
The collective compassion of hands on volunteers, product contributors, foundations and other donors brings HomeFront to the mark of 2,930 homes revitalized in program history, delivering $50 million of service where it is needed most. HomeFront is a community-based program dedicated to keeping low-income homeowners in their homes with an improved quality of life through substantial repairs completed at no cost to them. More information on HomeFront can be found online at: www.homefrontprogram.org.
Media Contacts:
Sean O'Brien, HomeFront
Office: (203) 658-9664
Mobile: (203) 803-9772
sobrien@homefrontprogram.org
Heidi Vandenbrouck, Charter Communications
(508) 479-3998
Heidi.Vandenbrouck@charter.com