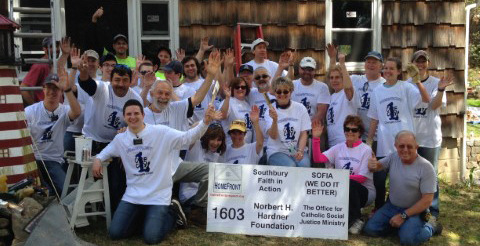 The year 2015 marked HomeFront's Fifth as an independent program and 28th overall. HomeFront volunteers and supporters completed 70 revitalization projects with us for neighboring families in need. This brings the total number of homes transformed by you to more than 2,800 in HomeFront's history! And, a record-breaking 708 applicants tell us that they need us now more than ever! Looking forward to many more years of making a difference in our backyard together.
Building Walls & Tearing Them Down
One of the themes that we witness each year is that there is no separation between the people we help and the helpers. You are enabling us to do more in-depth, construction-intensive projects than ever. Many walls get gutted, re-built, sheetrocked and painted. At the same time, through your actions, figurative walls and barriers get torn down. Carolyn is a great example of this. A single mom, living in Bridgeport, Carolyn had her home fixed up last year by HomeFront through volunteers from St. Francis of Assisi Church in Weston. No sooner was the work completed than Carolyn became the first volunteer to sign up and join St. Francis this year coming to the aid of another single mom in Bridgeport.
Further upstate, walls came up and walls came down for volunteers and Naomi, a disabled older adult in Hartford who is a one-person community-assistance movement despite the very low-income on which she subsists. Struggling neighbors know that they can come to Naomi and she will find a way to help them with groceries, hot meals, or whatever they need. A house fire suddenly placed Naomi in a state of need. Insurance would only cover so much of the damage to a space in her home that was once a source of rental income for Naomi. Volunteers from Hartford-based Cathedral of St. Joseph and West Hartford-based, St. Brigid's, joined forces to tear down the walls where the fire struck and re-build them. In the process, any walls between the volunteers and Naomi disappeared. Naomi referred to them as family and was very touched that they called to wish her a "Happy Mother's Day." When we followed up with Naomi to see if the work was completed, she responded, "Don't worry about me anymore. I got this. Let's see if we can help more people together who are still waiting for help."
This is just one of the ways in which HomeFront puts the unity back into community. To see more images and highlights from HomeFront 2015 check out our Photo Gallery.